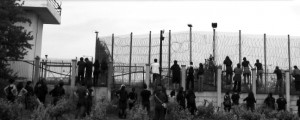 On Monday, June 4th, Stella was finally released from Koridallos women's prisons because she reached the limit of 18month pretrial detention. However, restrictive conditionshave been imposed on her (as in the case of Takis Masouras and Nina Karakatsani, who had stepped out of prison under cautionary measures, too) after the recent wave of new prosecutions against many of our comrades, in relation to the 250 CCF attacks.

Freedom now to all captives of the State!
http://en.contrainfo.espiv.net/2012/06/05/athens-anarchist-comrade-stella-antoniou-released-from-prison/
El lunes, 4 de junio, Stella fue finalmente liberada de las prisiones de mujeres de Koridallos dado que alcanzó el límite de 18 meses de prisión preventiva. Sin embargo, se le han impuesto condiciones restrictivas (como en el caso de Takis Masouras y Nina Karakatsani, que también salieron de prisión con medidas cautelares) después de la nueva ola de procesamientos contra muchxs de nuestrxs compas en relación con los 250 ataques de la CCF.
¡Libertad inmediata para todxs lxs cautivxs del Estado!
http://es.contrainfo.espiv.net/2012/06/05/atenas-la-compa-anarquista-stella-antoniou-liberada-de-prision/
fonte en.contrainfo
Lunedì, 4 giugno, Stella Antoniou è stata rilasciata dal carcere femminile di Koridallos per aver raggiunto i 18 mesi di carcerazione preventiva. Tuttavia, le sono state imposte delle restrizioni (come già avvenuto con Takis Masouras e Nina Karakatsani) per via della recente ondata di nuovi procedimenti giudiziari contro molti dei nostri compagni, in relazione ai 250 attacchi imputati alla CCF.
Libertà immediata per tutti i prigionieri dello Stato!