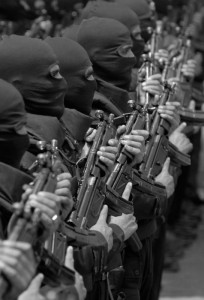 STOP G4S!
"I don't want a prison guard as my landlord" – Zimbabwean asylum seeker in Sheffield

G4S (Group 4 Security) is the world's largest private security army and the biggest private UK company with contracts worth £600m for security, managing detention centres, prisons and 675 court and police station cells. It is providing 10,000 guards for the Olympics costing us another £100 million
Now G4S and other security companies hope to get £135million of our money – to privatise the housing of people seeking asylum and put them in slum housing or "hostel accommodation".
G4S lost a previous contract with the Government for 'escorting' deported asylum seekers as a result of 773 complaints of abuse and the death of an asylum seeker. Three G4S employees are on bail facing criminal charges for this death. From March 1st asylum seekers in Yorkshire and Humberside are being expected to face them and their sub-contractors as landlords.
The new contracts will mean the privatisation of the whole of asylum seeker housing. Nottingham (a "City of Sanctuary") still maintains the humanitarian policies which have in the past housed Vietnamese, Kosovan, Sudanese, Kurdish, Zimbabwean refugees. If Nottingham Housing Associations lose the housing contracts, it will mean over 400 asylum seekers, families and individuals, dispersed to private landlords or hostels often miles away from children's schools or family doctors. Dozens of local authority jobs will go with the contracts.
Fat cats and politicians will benefit from the misery inflicted on traumatised families.G4S chief executive Nick Buckles, according to the Annual Report, gets an annual salary and shares worth £2.4m and a possible annual bonus of £1.2m. His pension pot is at present worth £7m. Former Labour Home Secretary now Lord (John) Reid, is a director at G4S who put him on the payroll at £50,000 in 2008 when he was a backbench MP. G4S are also experts at tax avoidance, hiding their profits in 12 global tax havens including Bahrain – a repressive government that kills its own people, causing people to seek asylum…
Do you want your taxes to go to this giant profit-hungry security company?
G4S means INsecurity for asylum seekers, job losses for council workers
Flyer produced by No to G4S Nottingham(facebook: No to G4S Housing Asylum Seekers) in partnership with South Yorkshire Migration and Asylum Action Group. www.symaag.org.uk/ dignitynotdetention@yahoo.co.uk. Supported by Unison Local Government Branch Sheffield, Sheffield City of Sanctuary, Nottingham and Sheffield Palestine Solidarity Campaign and many asylum and refugee community organisations
Nottingham Citizens for Sanctuary Establishes an Unholy Alliance with G4S
On the 6th July Notog4sNottingham members attended a public meeting of approximately 140 people, invited by Nottingham Citizens For Sanctuary (C4S) who created a "Commission" of 20 organizations including, Nottingham and Nottinghamshire Refugee Forum (NNRF), Unison, Himmah, several Churches, Mosques, Framework Housing Association, and Asylum Seekers and Refugees.
The Commission's report is entitled Homelessness and Hope the commission claims this is "peer led research into the accommodation problems faced by those seeking sanctuary in the UK to date and substantially the deepest piece conducted into destitution in Nottingham". 105 Asylum Seekers/Refugees interviews provide disturbing evidence regarding the extent and implications of the shortfalls, abuses in the asylum process both on individuals, families and children.
Notog4sNottingham hoped this would be a rare opportunity to ask UKBA and G4S some pertinent questions. From looking at some of the information on Citizens UK website http://www.citizensuk.org/chapters/nottingham-citizens/ Nottingham Citizens for Sanctuary are already forming a close working relationship with UKBA/G4S. This is a very detrimental position to take as it dilutes dissent, and getting onboard with UKBA/G4S neither provides extra resources or safeguards for asylum seekers.
The meeting room was set out in a similar way to ongoing high profile commissions (eg. Leveson Commission). The meeting started with a significant apology on behalf of Nottingham City Council Leader Jon Collins, who was due to Chair the meeting. It then became apparent why, as damning evidence of City Council housing and support failings emerged.
Commission panel member Andrew Redfern of Framework Housing Association spoke out about poor health and housing and also made an offer of two properties within their housing stock to those experiencing destitution.
Testimony from some very brave people highlighted their struggles against poverty, destitution and despair inside and out of the asylum process. One of the testimonies, from someone too fearful to attend, articulated how her house had been raided by 6 G4S uniformed staff, herself and family then transported in a caged van to Yarl's Wood IRC, and how en route her son was unwell and G4S staff refused to stop and allow her child medical treatment, he became silent and later said "it was like being driven to a grave to be buried alive". She then talked about being imprisoned for 50 days, and how scary Yarl's Wood is for children, the terrible condition of those who are detained. Her last comment was that she was "terrified by the idea of G4S being my landlord and would do anything to avoid them."
After hearing some of the very moving evidence from individual asylum seekers/refugees the audience was immediately invited to stand up to volunteer for various roles including being a part of the Welcome group working alongside G4S to monitor new arrivals or Hosting destitute asylum seekers. At one point, after a very emotional account we were asked by a member of the panel "stand up if this makes you angry ?. In relation to the question of G4S' reputation with those seeking sanctuary the meeting may well have allowed for the less discerning amongst us to begin to believe that G4S are actually OK, and that even if they are not then we can work with them to monitor them until they become OK.
UKBA Regional Head Gail Adams and G4S Midlands and East Director Jules Bickers sat in the first row waiting to give evidence. It soon became clear that questions to UKBA/ G4S had been given well in advance and all their answers were carefully prepared. However, when one panel member (also a refugee) asked the UKBA rep questions which were obviously spontaneous a fellow panel member rang a bell to silence him. Both G4S and UKBA representatives answered questions from members of the panel.
Throughout the 2 hour meeting no one from the audience was allowed to ask any questions but we were invited to stand up and volunteer at least 5 times in the 2 hour meeting.
The key recommendations (on Page8 Homelessness and Hope Report)
Firstly, Accountability and Accommodation; appropriate and specialist training to G4S staff in working with asylum seekers. A Welcome and Advocacy Service to welcome support and orientate new arrivals. Also, provide monitoring on housing standards and feedback to UKBA/G4S.
Secondly, Destitution and Dignity: a pilot scheme to look at available housing stock and utilize underused accommodation. For the City council in particular to look at arrangements to keep those in their properties.
Thirdly, Transition- Light at the end of the tunnel. To improve the ability to get National Insurance details and relevant paperwork bearing in mind that much of their limited ID won't be acceptable to banks and not meet requirements to access public funds or employment.
However, UKBA and G4S had clearly stated that apart from the free training and the commission offering a signposting service, all the key recommendations were responded to vaguely or flatly refused. Nottingham City Council in its statement read out on behalf of Jon Collins stated it would be happy to act 'within the spirit of the commission'.
UKBA stated that even trained volunteers will not be allowed to attend properties with G4S staff.
UKBA has no money for any 'new add-on service' but invited the commission to get on board it's Regional Strategic Migration Partnership if funding is to be accessed from them for other possible initiatives.
UKBA reiterated that asylum support is voluntary on the individual service user and they have to overcome their issues and want to engage with G4S.
G4S offered opportunity to any volunteers to shadow their staff traveling in their caged vans.
UKBA emphasized that when cases are exhausted that compliance with the law to leave the country is actively enforced. That within the last two years a new system of review has been in place where two senior members of UKBA staff review cases on appeal. Speaking with an Immigration Solicitor after the event he believes that over 60% of these appeals award some status.
Despite a letter sent by NNRF, Nottingham City of Sanctuary, The Children's Society (Nottingham branch) and Notog4sNottm requesting assurances that Local Strategic Safe Guarding Boards have been consulted as part of the contracts due diligence process, we have received no assurances that the Children's Act 1989 and amendments have been applied to any part of this process.
The 2 hour meeting will certainly have gone some way to alleviating some of the concerns noted above. But let's not forget in relation to the 'budgetary pressure' G4S got this contract because they were the cheapest option. They are quite happy to undercut other bidders. The report mentions nine times benefits to tax payers and the public purse on using G4S and civil society for free.
The last three closing comments encapsulate the mood of the meeting. Commission panel member Minister Karen Rooms said "we can't look at the past with this work." Patsy Brand from NNRF stated "she looked forward to working with UKBA and G4S into the future." The evening was ended by Commissioner Reverend Michael Brown reading the comment of Bishop Paul that this report is "Innovative, Disturbing, Challenging, and Sensible." There was then lots of applause and back slapping for everyone involved including G4S. Finally it is important to note, as yet nobody outside of the procurement process has seen the contract.
Notog4sNottingham
Twitter @NoToG4SNotts
www.notog4s.blogspot.co.uk