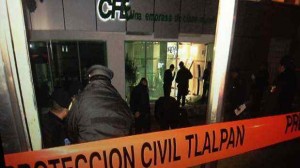 325 has received news of an injured companero, Mario Antonio Lopez Fernández, 27, who has been hurt whilst reportedly carrying an incendiary device in southern Mexico City, during the night of 26-27 June. We will print more news as we get it, but for now, these details are being reported in the mainstream press:

Last night, Tuesday 26 June at 11:37 pm, an explosion occured at an automatic payment office of the Federal Electricity Commission in Tlalpan. No one was injured or arrested. Roughly an hour later, at 00:40 am, Wednesday, at the corner of Londres and Vicente Guerrero, Coyoacán, Mario was reportedly injured after a loud explosion in the street happened. The scene was attended by paramedics that took him to hospital, under the guard of police who regard him as being responsible for both explosions. It is reported that Mario has injuries to his right leg, right arm and body. Another explosive device was found in a backpack at the scene of the blast. This was taken and deactivated by the police as evidence in their investigation which begins.
Strength to Mario and his close ones
Will and determination for all in the struggle
Coyoacán, México: Compañero herido tras explosión
El compañero Mario Antonio López Fernández resultó con quemaduras en su estómago y piernas.
Dos explosiones en diferentes puntos del sur de la Ciudad de México se sucedieron en horas de la noche. La primera ocurrió en la carretera Picacho Ajusco 501, esquina Cartos (colonia Ampliación Miguel Hidalgo). Un artefacto explosivo de fabricación casera detonó a las 23:37 del martes (26 de junio) en un área de pagos de laComisión Federal de Electricidad (CFE). Hubo plafones, mobiliario y cristales rotos, además de daños a un cajero automático.
A las 00:40 de hoy (27 de junio), en la esquina de Vicente Guerrero y Londres en la colonia del Carmen, el compañero Mario Antonio López Fernández, de 27 años, resultó herido cuando le explotó un artefacto incendiario. El compa resultó con importantes quemaduras en su estómago y brazos.
Según versiones "oficiales", los artefactos hicieron ignición dentro de la mochila en que los transportaba. Ahí el sujeto recibió los primeros auxilios después fue trasladado en una ambulancia, con custodia policial, hacia el Hospital Rubén Leñero.
En la mochila de Mario se encontró otro artefacto explosivo que fue llevada a la "Base Piraña" para ser desactivada.
Estaremos actualizando la situación del compa según se vayan conociendo nuevos detalles.
¡Siempre con Mauri!
¡Siempre con Tortuga!
¡Siempre con lxs rebeldes!
¡Solidaridad con Mario López!