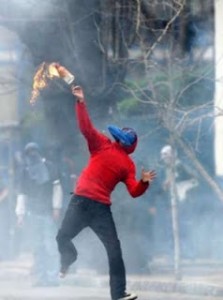 from pugetsoundanarchists:
Last night in Seattle we smashed the windows of two banks and a Starbucks. It is saddening that so many people experience banks as institutions of exploitation yet refuse to take the step of attacking them, as for smashing up a Starbucks, it may be the only Seattle tradition worth continuing since the WTO.

These specific acts were done in solidarity with the ten people sentenced to long prison terms in Italy a few days ago for their participation in the anti-G8 activities of 2001 as well as the recent repression against anarchists in Italy known as operation "Ardire".
It is important to remember that at that summit in 2001 the police killed Carlo Giuliani and tortured and imprisoned hundreds. It is also worth remembering that it is always possible for thousands of people to rise up as they did in Genoa in 2001 and attack the manifestations of the rotten system we all live under.
…..some anarchists
El 15 de julio por la noche, en Seattle, destrozamos las ventanas de dos bancos y un Starbucks. Es triste que tanta gente entienda los bancos como instituciones de explotación pero aun así se niegue a dar el paso de atacarlos; en cuanto al destrozo del Starbucks, puede que sea la única tradición de Seattle que valga la pena continuar desde la OMC.Estos actos concretos se realizaron en solidaridad con las diez personas sentenciadas a largas penas de cárcel hace unos días en Italia, debido a su participación en actividades contra el G8 de 2001, así como con la reciente oleada represiva contra anarquistas en Italia, la "Operación Osadía"
Es importante recordar que en la cumbre de 2001, la policía mató a Carlo Giuliani y torturó y encarceló a cientos de personas. También conviene recordad que siempre es posible que miles de personas se rebelen como lo hicieron en Génova en 2001 y ataquen las expresiones de este podrido sistema en el que vivimos.
http://es.contrainfo.espiv.net/2012/07/17/seattle-eeuu-dos-bancos-y-un-starbucks-destrozados-por-anarquistas/
La nuit du 15 juillet à Seattle nous avons fracassé les vitres de deux banques et d'un Starbucks. Il est affligeant de voir que tellement de gens voient les banques comme les institutions de l'exploitation mais refusent de les attaquer, tout comme défoncer un Starbucks, ça doit être la seule tradition de Seattle qui vaut le coup d'être prolongée depuis l'OMC.
Ces actes spécifiques ont été faits en solidarité avec les dix personnes qui se sont vu condamnés à de longues peines de prison en Italie il y a quelques jours pour leur participation au contre-G8 en 2001, et en solidarité aussi avec les anarchistes victimes de la dernière vague de répression en Italie connue sous le nom de l'"Opération Ardire".
C'est important de se rappeler qu'à ce sommet en 2001 la police a tué Carlo Giuliani et a torturé et emprisonné des centaines de personnes. Il faut aussi se souvenir qu'il est toujours possible pour des milliers de personnes de se soulever comme ils l'ont fait à Gênes en 2001 et d'attaquer les manifestations d'un système pourri sous lequel nous vivons tous.
… des anarchistes
http://fr.contrainfo.espiv.net/2012/07/17/seattle-deux-banques-et-un-starbucks-defonces-par-des-anarchistes/