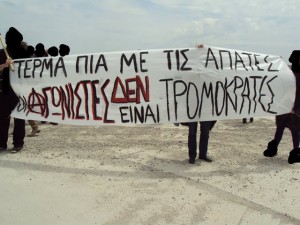 [Stop deception – Fighters are not terrorist]
translated from Italian by act for freedon now/B.pd
This is a political trial against revolutionaries who chose armed struggle to overthrow capitalism, the State, and the criminal regime which you, as judges, are here to defend.
Your court is a special tribunal set up by American and British imperialists and by the guardians of the Greek state, who have imposed anti-terrorism laws and special rules that decide on the sanctions and make sentences heavier. They introduced special courts inside the prison, in a suffocating security environment which badly affects the publicity on the trial in order to prevent people from listening to the revolutionaries' political opinions. On this occasion they applied special conditions of detention, with the aim of strengthening the repression against armed resistance and the revolutionary organization of armed actions in Greece.
All this because the previous repressive regime was labelled as insufficient and ineffective, as it did not have any special bill concerning 'the formation of terrorist organizations' and the citizens of the jury were active.
Even if you do not recognize political opponents and political prisoners, you are domostrating – by enforcing special laws and measures against us and by judging us in a special court – that you indirectly recognize us as political enemies, dangerous for the political and economic regime that you serve, unlike all those your Power consider 'ordinary criminals'.
In this way you are demonstrating that power deeply hates its political enemies. Moreover, which authority has ever officially recognized political opponents and enemies?
The warriors of ELAS (Greek Popular Liberation Army) during the fascist occupation, and the Democratic Army of Greece during the civil war, were treated as 'bandits' [symmorites] by the treacherous monarchist-fascist regime in the postwar period, and judged by a special military court.
The members of armed organizations are persecuted as 'terrorist' and judged by special courts like this one. The label 'terrorist' is applied to revolutionary fighters by all forms of government, no matter if they are military regimes or dictatorships, like that of 1967-1974, the constitutional oligarchy of the postwar years, which was euphemistically called 'democracy', or the current junta of traitors and collaborators of the PASOK government, which is putting the people into the hands of the oligarchic power of the international economy by signing the memorandum treaty.
All the freedom fighters and armed fighters of the world have been persecuted with the charge of being 'terrorist': the Red Brigades in Italy, the members of RAF, the June 2 Movement, the Revolutionary Cells of West German, the Cells of Communist Combatants in Belgium, the members of Action Directe and GARI in France, the First of May, anarchist and autonomous fighters and the members of MIL in Spain during the Franco's regime, the Tupamaros fighters in Uruguay, Che Guevara, the members of the FARC in Colombia, the Fronte Farabundo Martí (FMLN) in El Salvador, Sendero Luminoso and Túpac Amaru (MRTA) in Peru, the fighters of revolutionary organizations in Turkey, the members of the PKK, IRA and ETA, and here in Greece the fighters of the 17th November (17N) and ELA (Revolutionary Popular Struggle).
As for the charges: today in this court those who are committing crimes against the people, those who are committing the biggest social robbery in history should be in the dock and be ashamed.
They are the members of the PASOK government, prime minister Giorgios Papandreou, economy minister Evangelos Venizelos and his predecessor, former minister Giorgos Papakonstantinou, ministers Loverdos, Koutroumanis, Pangalos, Chrisochoidis, Papoutsis, Diamantopoulou, all the other ministers and under-secretaries, the members of political parties who make laws for looting the people, who cut on basic needs such as food, housing, jobs, health, education, dignity, those who deny people of their life, those who signed the middle-term plan and agreed with the recent Pact for Stability and Growth, thus humiliating people and turning them into subjects under the national and international economic aristocracy.
The current corrupted traitors of the Greek people are these ones – like Georgios Tsolakoglou and Ioannis Rallis in the past. The members of the previous government of Nea Dimokratia, ex prime minister K. Karamanlis, ex economy minister and economists G. Alogoskoufis, P. Doukas, G. Papathanasiou, ministers P. Panagiotopoulos, G. Voulgarakis, V. Polidoras, S. Tsitouridis, F. Palli-Petralia, all these men should sit in the dock and be ashamed.
All these men should apologize for robbing the people and the welfare funds, as in the case of so-called bills of exchange (structural installations), which some insurance companies bought and were therefore damaged; for robbing public resources, as in the case of exchange of public soil with the monastery of Vatopedi; for committing crime against people's freedom, as in the case of the telephone tapping of hundreds of citizens in 2004-2005, ordered by the American embassy in Athens for the security of the Olympic games, and carried on for years, a case that resulted in the death – now they are calling it murder – of a Vodaphone worker; for the kidnapping and torture of Pachistani people in 2005, ordered by the British; for the torture on immigrants, like that in the police station of Ag. Pantaleimonas in 2005; for the privatisation of social security, medical assistance and hospitalization affecting hundreds of workers due to insurance reforms introduced by Petralia (work minister) in 2008; for assaulting psychologically demonstrators, as in the case of the students demo in 2007; for beating and murdering immigrants outside the police unit of the Asylum Department on Petrou Ralli road; for murdering Alexis Grigoropoulos.
You should sit in the dock and apologize, you professional judges, you the accomplices and servants of all these scoundrels and criminals, you patrons of the regime, armed guards of power, the para-state, the special forces units and traitors, the police and their special units, the unity for restauration of order, DELTA, DIAZ, the special guards protecting the rich, the leaders and the politicians, those who attack people on strike, those who kill young people, immigrants, fighters, those who torture inside police stations.
You are all members of a stuctural and extremely well organized criminal and terrorist organization whose name is state, and whose mission is to defend the interests of the rich. .
Your mission is to defend the criminal regime called capitalism. All those you serve should be held accountable for robbing and looting the people, the people's income, wages, pensions, public funds and social insurance.
Those you serve should be held accountable for those who do not have food and look for it in the rubbish, for those who are dying or whose life and health are put at risk for lack of medical assistance in hospitals and cuts to the national health service, for those who lose their lives during so-called 'work accidents', for those who lose thier jobs and are condemned to poverty and misery, for those who lose thier homes, for those who commit suicide because of their debts, while in the meantime these criminals live in luxury.
You are going to judge us on behalf of all these scoundrels and criminals, whom people want to see hanging in Syntagma square. This trial is a crime. Because your charges and imprisonment are criminal and anti-social acts.
Because you judges and public prosecutors are accomplices of a criminal regime that terrorize people and the majority of society every day.
Because our actions are necessary for the liberation of the people from the totalitarianism of capital and the state.
Because people are not terrorized by the actions of Revolutionary Struggle, on the contrary many people agree with the actions of the organization, since our revolt is against political and economic power, against the regime that oppresses and exploits them day by day.
Because terrorism is the theft and looting committed by the state, the government and the economic elite against the people. Terrorism is to condemn people to poverty and deprivation. Terrorism is the violence of henchmen cops against people who demonstrate. As revolutionaries and members of Revolutionary Struggle, we have no reason for making apologies. It is you and the members of the regime who have reasons for making apologies. .
On the contrary, we can be proud of our participation to Revolutionary Struggle. We are proud because we are against injustice, exploitation and oppression. To hold arms in hand is always the right thing to do.
Armed revolt for the overthrowing of capitalism and the state is appropiate and necessary now more than ever.
We are here to declare that Social Revolution is the only justice that will defeat the criminal regime.
Nikos Maziotis
Atene: Dichiarazione scritta da Nikos Maziotis, membro di Lotta Rivoluzionaria – 24 ottobre 2011
Questo processo è un processo politico, dove vengono giudicati i rivoluzionari che hanno scelto la lotta armata per rovesciare il capitalismo e lo Stato, per rovesciare il regime criminale che voi, come giudici, difendete.
La vostra corte é un tribunale speciale ordinato dagli imperialisti americani ed inglesi e dai guardiani dello stato greco, i quali hanno imposto una legislazione antiterrorista con disposizioni speciali che regolano le accuse e massimizzano le sanzioni; hanno introdotto tribunali speciali all'interno delle prigioni in un soffocante ambiente di sicurezza che degrada la pubblicità del processo in modo da tenere le persone lontane dal sentire le opinioni politiche dei rivoluzionari; hanno applicato all'occasione condizioni speciali di detenzione, tutte finalizzate a rendere più severa la repressione contro la resistenza armata e contro l'organizzazione rivoluzionaria di azioni armate in Grecia.
Questo perchè il precedente repressivo regime, il quale non aveva nessuna speciale disposizione riguardante "la formazione di organizzazioni terroristiche", e dove i cittadini della giuria erano attivi, é stato qualificato come insufficente e inefficace. Anche se non riconoscete gli oppositori politici e i prigionieri politici, in questo modo voi provate, praticamente attraverso l'applicazione di leggi speciali e di speciali provvedimenti contro di noi, giudicandoci in una corte speciale, che indirettamente ci riconoscete come nemici politici e pericolosi per il regime politico ed economico che voi servite, in contrasto con tutti coloro che il vostro Potere considera come "criminali comuni".
In questo modo voi provate che il potere ha un odio infinito nei riguardi dei suoi stessi nemici politici. Inoltre quale autorità ha mai riconosciuto ufficialmente gli oppositori politici e i nemici politici?
I guerriglieri dell'ELAS (Esercito Popolare Greco di Liberazione) durante l'occupazione fascista e l'Esercito Democratico di Grecia durante la guerra civile sono stati maltrattati e cacciati come "briganti" [symmorites] dal regime monarca-fascista traditore del dopoguerra e sono stati giudicati da una speciale corte marziale.
Membri delle organizzazioni della rivoluzione armata vengono perseguitati come "terroristi" e giudicati da tribunali speciali come i vostri. La caratterizzazione "terrorista" viene applicata ai combattenti rivoluzionari da tutte le forme del potere, indipendentemente se siano regimi militari o dittatoriali, come quello durante il 1967-74, l'oligarchia costituzionale del dopo guerra che per eufemismo fu chiamata "democrazia", o l'attuale giunta di traditori e collaborazionisti del governo del PASOK che consegna il popolo nelle mani del potere oligarchico dell'economia internazionale firmando il trattato di memorandum.
Tutti i combattenti per la libertà e i combattenti armati di tutto il mondo sono stati perseguitati con l'accusa di essere "terroristi": Le Brigate Rosse in Italia, i membri della RAF, il Movimento del 2 Giugno, le Cellule Rivoluzionarie della Germania dell'Ovest, le Cellule dei Combattenti Comunisti in Belgio; membri dell'Azione Diretta e GARI in Francia; il Primo Maggio, gli anarchici e i combattenti autonomi e i membri del MIL in Spagna durante il regime di Franco e i membri del GRAPO nel post-regime di Franco; i combattenti del Tupamaros in Uruguay; Che Guevara, i membri della FARC in Colombia; il Fronte Farabundo Martí (FMLN) in El Salvador, Sendero Luminoso e Túpac Amaru (MRTA) in Perù; i combattenti delle organizzazioni rivoluzionarie in Turchia, i membri del PKK, IRA e ETA, e qui in Grecia i combattenti del 17 Novembre (17N) e ELA (Lotta Popolare Rivoluzionaria).
Per quanto riguarda le accuse: Oggi, in questa corte dovrebbero essere in piedi sul banco degli imputati a chiedere scusa, coloro che commettono crimini contro le persone, coloro che commettono la più grande rapina sociale della storia.
Questi sono i membri del governo del PASOK, il primo ministro Giorgios Papandreou, il ministro dell'Economia Evangelos Venizelos e il suo predecessore, l'ex ministro Giorgos Papakonstantinou, i ministri Loverdos, Koutroumanis, Pangalos, Chrisochoidis, Papoutsis, Diamantopoulou, tutti i ministri, i sotto-segretari e membri dei partiti politici che legiferano per il saccheggio del popolo, che tolgono i bisogni neccessari come il cibo, la casa, il lavoro, la cura alla salute, l'educazione, la dignità, quelli che privano le persone della loro vita, quelli che hanno sottoscritto il memorandum di vassallaggio con la Troika dell'FMI, della Banca Centrale Europea e dell'Unione Europea, coloro che hanno sottoscritto il Piano a medio termine e hanno concordato sul recente Patto di Stabilità e Crescita, umiliando le persone e trasformandole in soggetti sotto l'aristocrazia economica nazionale ed internazionale.
I moderni corrotti traditori del popolo greco sono questi – come Georgios Tsolakoglou e Ioannis Rallis in passato. I membri del precedente governo di Nea Dimokratia, l'ex primo ministro K. Karamanlis, l'ex ministro dell'Economia e gli Economisti G. Alogoskoufis, P. Doukas, G. Papathanasiou, i ministri P. Panagiotopoulos, G. Voulgarakis, V. Polidoras, S. Tsitouridis, F. Palli-Petralia, sono tutti quelli che dovrebbe stare sul banco degli imputati e chiedere scusa.
Tutti questi dovrebbero chiedere scusa per il furto contro il popolo, per rapina contro i fondi di assicurazione sociale, come nel caso delle cosi dette cambiali (insediamenti strutturati) che alcuni fondi assicurativi hanno comprato e sono stati cosi danneggiati; per rapina delle risorse pubbliche, come nel caso di scambio di suolo pubblico con il monastero di Vatopedi; per crimine contro le libertà delle persone come nel caso delle intercettazioni telefoniche di centinaia di cittadini durante il 2004-5, ordinate dall'ambasciata americana in Atene per la sicurezza dei giochi olimpici e continuata per anni, un caso che ha avuto come risultato la morte- ora parlano di assassinio- di un impiegato della Vodaphone; per il rapimento e le frustate ai Pachistani nel 2005 ordinato dagli inglesi, per le torture degli immigranti, come quelle nella stazione di polizia di Ag. Pantaleimonas nel 2005, per la privazione della sicurezza sociale e le cure mediche e l'ospedalizzazione di centinaia di lavoratori causate dalla riforma assicurativa introdotta da Petralia (ministro del lavoro) nel 2008; per l'assalto psicologico ai dimostranti, come nel caso della manifestazione studentesca nel 2007; per le frustate e gli omicidi di immigrati fuori dalla centrale di polizia del Dipartimento d'Asilo nella via di Petrou Ralli, per l'omicidio di Alexis Grigoropoulos.
Siete voi che dovreste stare sul banco degli imputati e chiedere scusa, voi giudici di professione, che siete complici e servi di tutti questi furfanti e criminali; patroni del regime, i cani armati del potere, il para-stato e i traditori, la polizia e le sue unità di sicurezza, le unità di forze speciali, l'unità di restaurazione dell'ordine, DELTA, DIAZ, le guardie speciali le quali sorvegliano e proteggono i ricchi i capi e i politici, quelli che assalgono la gente che protesta e sciopera, quelli che uccidono i giovani, gli immigranti, i combattenti, quelli che torturano dentro le stazioni di polizia.
Voi siete tutti membri di una strutturata ed estremamente ben organizzata organizzazione criminale e terrorista che si chiama stato, la quale missione è di difendere gli interessi del ricco.
La vostra missione è di difendere il regime criminale che è chiamato capitalismo. Tutti quelli che voi servite dovrebbero rispondere di rapina e saccheggio contro la gente, contro il reddito della gente, contro gli stipendi, le pensioni, i fondi pubblici, e i fondi di assicurazione sociale.
Sono quelli che voi servite che dovrebbero rispondere per tutti coloro che non hanno niente da mangiare e cercano nella spazzatura il cibo, per tutti quelli che stanno morendo o la loro vita e la loro salute sono esposte al rischio a causa della carenza di assistenza negli ospedali e della riduzione del servizio sanitario, per tutti coloro che perdono la vita nei cosidetti incidenti sul "lavoro", per tutti coloro che perdono il lavoro e sono condannati alla povertà e alla miseria, per tutti coloro che perdono le loro case, per tutti coloro che si suicidano a causa dei debiti, mentre nel contempo questi criminali vivono agiatamente.
Voi ci giudicherete per conto di tutti questi furfanti e criminali che la gente vuole vedere impiccati nella piazza di Syntagma. Questo processo è un crimine. Perchè la nostra accusa e l'incarceramento è un atto criminale e anti-sociale.
Perchè voi come giudici e pubblici ministeri siate accessori di un regime criminale che tutti i giorni terrorizza la gente e la maggioranza della società.
Perchè noi e le nostre azioni sono necessarie per la liberazione del popolo dal totalitarismo del capitale e dello stato.
Perchè la gente non solo non è stata terrorizzata dalle azioni di Lotta Rivoluzionaria, ma sono molte le persone che approvano le azioni dell'organizzazione, dal momento in cui queste sono rivolte contro il potere politico ed economico, contro il regime che giorno dopo giorno li opprime e li sfrutta.
Perchè terrorismo è il furto e il saccheggio commesso dallo stato, dal governo e dall'elitè economica a discapito della gente. Terrorismo è la condanna della gente alla povertà e alla privazione. Terrorismo è la violenza della polizia pretoriana contro la gente che protesta.
Noi, come rivoluzionari e come membri di Lotta Rivoluzionaria non abbiamo motivo di scusarci rispetto a niente. Siete voi e i membri del regime che difendete che hanno motivi per scusarsi.
Al contrario, noi abbiamo motivo di essere orgogliosi della nostra partecipazione a Lotta Rivoluzionaria. Noi siamo orgogliosi perchè siamo contro l'ingiustizia, lo sfruttamento e l'oppressione, ed abbracciare le armi è sempre giusto.
La rivolta armata per il rovesciamento del capitalismo e dello stato è appropiato e necessario più che mai.
Noi siamo qui per dichiarare che la Rivoluzione Sociale è la unica giustizia che sconfiggerà il regime criminale.
Nikos Maziotis
http://it.contrainfo.espiv.net/2012/05/10/atene-dichiarazione-scritta-da-nikos-maziotis-membro-di-lotta-rivoluzionaria-24-ottobre-2011/