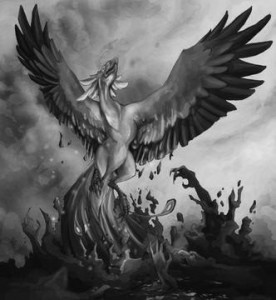 Ai prigionieri anarchici
Il carcere è il paese dei prigionieri. Da qui vogliamo inviare i nostri saluti ai compagni imprigionati in tutto il mondo e dare l'avvio ad una proposta.

Nel paese dei prigionieri i giorni si susseguono lentamente ed indifferentemente, mentre dappertutto prevale il cemento ed una noia immensa.
Tuttavia, con frequenza le nostre menti evadono e di soppiatto visitano i nostri fratelli imprigionati in Cile, Messico, Italia, Germania, Svizzera, Inghilterra, Russia, Danimarca e dove vi sono altri rinchiusi in celle, ma che non si son dimenticati del desiderio per la libertà.
Compagni, conversiamo con voi anche se non parliamo la stessa lingua. Ci osserviamo anche se non ci siamo mai visti, sorridiamo tra noi anche se non ci conosciamo.
Il nemico crede di poter spezzare il nostro morale rinchiudendoci, mesi ed anni, nelle sue celle. Il Potere ha la speranza in una dichiarazione di pentimento, un rinnegamento dell'azione diretta, una revisione dei nostri valori anarchici.
Ma le uniche cose che riceverà saranno il disprezzo totale e la nostra rabbia più forte. Tutti noi, che abbiamo accettato la responsabilità di appartenere alla CCF della prima fase, attendiamo delle sentenze di condanna di molti anni, condannati da un sistema al quale abbiamo dichiarato la guerra, perché non tolleriamo che governi sulle nostre esistenze.
Il processo che sta per esser imbastito contro la CCF lo vogliamo trasformare in un processo contro il sistema.
Con il nostro discorso e la nostra posizione non saremo noi che peroreremo la nostra causa di fronte ai giudici, ma saranno essi a farlo, per i reati commessi dal Potere che servono.
Allo stesso tempo vogliamo porre in risalto il meccanismo fascista costruito per perseguitarci con la collaborazione dei servizi polizieschi, giudiziari e giornalistici.
Un meccanismo che ha lanciato una campagna anti-anarchica senza precedenti, con l'obiettivo non solo del nostro arresto, ma di creare un clima di diffusione della paura, in cui persino il possesso di testi di anarchici prigionieri, già pubblicati, può condurre una persona di fronte ad un magistrato.
Hanno proceduto a molti arresti, emettendo ordini di cattura, pubblicando foto di quelli tra di noi sfuggiti alla cattura, con titoli di giornali sulle "connessioni tra tutte le organizzazioni guerrigliere", con reportage sulla "cassa rivoluzionaria" e sulla nostra partecipazione alla rapine in banca, con le analisi del "profilo psicologico" di ciascuno di noi fatte da "specialisti" e molte altre metodiche manovre con l'obiettivo di isolarci moralmente e di emarginare la guerriglia urbana anarchica.
In questa maniera lo Stato vuole cancellare l'azione diretta anarchica dalla mappa dei valori dei circoli sovversivi.
Vuole presentare l'azione diretta come una decisione vana, che ti conduce direttamente in carcere e che non cambia nulla.
Tuttavia, quando uno decide di scegliere l'azione diretta, decide di prendere la propria vita nella sue mani.
Con l'azione diretta abbiamo spezzato l'immobilità del pensiero, abbiamo cancellato movimenti pusillanimi e sabotato gli orologi della disciplina, creando tempi e spazi liberi all'interno dell'ostile ambiente della metropoli.
Laddove le videocamere registrano i nostri movimenti, i porci sbirri in uniforme osservano i nostri sguardi e gli schermi dello spettacolo fabbricano i nostri desideri, noi, ancora una volta, ci incappucciamo. Le nostre mani afferrano pietre, molotov, bombe, pistole e scendiamo in strada alla ricerca della libertà.
Ora, stando in carcere, non ci siamo mai dimenticati di quella sensazione ed alla prima occasione faremo esattamente lo stesso.
Per questo non vogliamo che nel nostro processo ci difenderà qualcuno della nota cricca dei circoli sinistrorsi, intellettuali o professori universitari.
Cosa sanno tutti questi sull'avventura dell'azione diretta e sui valori che essa ha?
Cosa possono dire quelli che trascorrono tutto il giorno seduti sui loro comodi studi, con la loro cultura di sinistra da salotto che chiacchiera contro il sistema, nel momento in cui questo stesso sistema li sta alimentando?
No, ben lungi da noi la loro "sensibilità" ed i loro sensi di colpa che provano per essersi venduti al Potere che vuole presentarci come "giovani con ansie e sensibilità sociali".
Non cerchiamo false simpatie, né appoggio dalla Sinistra, al contrario: cerchiamo complici nel nostro delitto, quella della lotta per l'anarchia e la libertà.
Non ci potrebbe essere un luogo più affidabile per questa nostra ricerca che il carcere, che nel percorso di molti compagni anarchici costituisce una sosta obbligata.
Per questo, compagni, ci rivolgiamo a voi con una proposta-invito.
In pochi mesi si terrà il secondo processo contra la CCF.
Sin da ora sappiamo che saremo condannati e nemmeno per un minuto faremo un passo indietro, nemmeno chineremo la nostra testa o la nostra voce per trarre benefici da alcuna "circostanza attenuante".
Per questo non vi può essere un discorso di difesa meglio e più forte che la vostra stessa voce, compagni. E' dalle vostre espressioni di solidarietà ed in seguito agli attacchi realizzati dai gruppi anarchici di azione diretta che noi prendiamo il coraggio di guardare direttamente negli occhi i nostri persecutori. E qualcosa che certamente anche voi avrete sentito, imprigionati in altri paesi e pagando lo stesso prezzo per la nostra comune passione per la libertà.
Più in concreto, quel che stiamo pensando e proponendo è di editare, in previsione del processo, un opuscolo i cui contenuti saranno le vostre parole solidali internazionali con il caso della CCF.
Allo stesso tempo ci piacerebbe, visto che per noi la solidarietà è un concetto reciproco e se desiderate esprimerla in modo da darci la forza ed il sostegno, l'aggiunta di un testo d'introduzione che parli del caso di ciascuno di voi.
In questa maniera, con l'opuscolo che vogliamo editare, accluderemo anche la presentazione dei casi di ciascuno di voi, portando la vostra esperienza di lotta in Grecia ed a tutti gli altri paesi in cui si diffonderà questa pubblicazione. Così, si creano nuove opportunità per istigare le ostilità con il sistema come parte della solidarietà internazionale.
Tutti insieme costruiremo un'esperienza internazionale della lotta, che va ben oltre il nostro caso concreto, considerando che non percepiamo la CCF come una semplice sigla di una organizzazione, ma come uno status che descrive e compone le caratteristiche ed il tragitto di lotta anarchica che portiamo avanti, parte della quale è anche la nostra permanenza in carcere.
Si tratta di un'esperienza che vogliamo condividere con tutti voi, compagni che vi trovate prigionieri nelle mani dello Stato, ed allo stesso tempo si tratta di una proposta con la quale anche noi potremmo esser complici delle vostre esperienze.
In questa maniera sarà possibile, all'interno dei circoli anarchici internazionali, ad un livello di unità e di coordinamento che non sia vago ma essenziale.
Il contatto tra compagni prigionieri a livello internazionale trasforma la solidarietà in un laboratorio rivoluzionario che farà conoscere le diverse percezioni che configurano un fronte d'azione anarchica.
Questa prima conoscenza tra noi è capace di creare pre-condizioni in modo che si apra un dialogo internazionale, sia tra noi prigionieri che con e tra i compagni che sono fuori dalle mura carcerarie, un dialogo in cui si dibatteranno percezioni ed analisi specifiche di ciascuno, dando vita a delle azioni coordinate di attacco contro lo Stato. Naturalmente senza che tutto ciò significhi la fusione o l'appiattimento delle diverse opinioni.
Inoltre, tali differenze non possono e non devono esser un ostacolo in un mutuo appoggio.
Si tratta del tentativo di passare dalla simpatia che, con lettere e reciproche citazioni nei testi si sono evidenziate tra di noi, al coordinamento internazionale. Si tratta di divenire complici creando insieme la Internazionale Nera degli anarchici prigionieri appoggiando, per chi lo desideri, la proposta dei compagni italiani sul rafforzamento ed ampliamento della Federazione Anarchica Internazionale / Fronte Rivoluzionario Internazionale.
Le potenzialità scaturite da questa via sono enormi, visto che si tratta di un processo di acutizzazione delle ostilità tra anarchici rivoluzionari ed il sistema.
Vale la pena immaginarci la forza che potrebbe acquisire una mobilitazione, per esempio, che parta nelle carceri cilene, attraversa le frontiere, e giunge fino alle celle della Grecia. In questa maniera, dalle carceri ci si potrà appellare ad una campagna internazionale di solidarietà, come è già avvenuto nel passato quando s'è trattato dell'appoggio al compagno Gabriel Pombo da Silva.
Allo stesso tempo, la creazione di una rete autonoma di comunicazione tra i prigionieri crea delle adeguate pre-condizioni per l'esistenza di un flusso permanente di informazioni su quel che accade in ogni carcere, le condizioni di reclusione, i processi a venire, le sentenze, ed infine la preparazione di un piano di contrattacco per i compagni che sono fuori dal carcere.
Per ogni condanna contro un compagno, per ogni punizione disciplinare, per ogni proibizione della corrispondenza o dei colloqui, per ogni trasferimento vendicativo: nessun carceriere, nessuna ambasciata e nessun poliziotto dovranno sentirsi al sicuro. Quando la potenzialità di comunicazione passerà tra le mani dei prigionieri, dappertutto ci saranno compagni decisi a rispondere con l'azione, col sabotaggio ed il fuoco.
La proposta di editare l'opuscolo "Parole internazionali solidali con CCF" la consideriamo come un primo passo verso questa direzione.
A seguire ci saranno sicuramente molti altri passi, è solo che da qualche parte si deve cominciare.
Concludendo, salutiamo e siamo con voi, sia con i nostri pensieri che con i cuori, dai compagni in Cile accusati per il "caso bombas" alla compagna Tamara che affronta la persecuzione dello Stato per aver inviato un pacco-bomba.
Dalle carceri della Grecia inviamo segnali di fuoco e di anarchia a Monica Caballero, Andrea Urzua, Viejo Loco e gli altri compagni accusati per il "caso bombas", a Gabriel Pombo da Silva, a Thomas Meyer-Falk, a Marco Camenisch, a Silvia, Billy e Costa, a Braulio e Arturo, a Walter Bond, a Villaroel e Fuentevilla, a Thomas Black ed agli antifascisti inglesi, agli insurrezionalisti italiani imprigionati, ai russi e bielorussi, ai danesi ed a tutti quelli che abbiamo dimenticato o dei quali non conosciamo il nome e che vorremmo conoscere, perché tutti noi abbiamo scelto di andare contro la nostra epoca, avendo l'anarchia come bussola.
A tutti noi dedichiamo il seguente frammento:
"Un giorno di carcere. Due giorni di carcere. Tre giorni di carcere. Un mese di carcere.
La porta si chiude e si apre, si chiude e si apre di nuovo. Tre mesi di carcere. E' trascorso un anno di carcere. Vai a sapere se gli altri stanno pensando a me come io penso ad essi. Oggi il giorno non passa mai. Quattrocentottantadue giorni di carcere. Quattrocentottantatre giorni di carcere. Quattrocentottanta… ho perso il conto. Cazzo… meglio così, in carcere non sta bene far conti. I calcoli non hanno alcun senso. Il carcere ha un suo odore. Un odore che ti si appiccica addosso e ti segue. Dai, non riuscirò mai a togliermelo di dosso. Ieri ho finito due calendari in carcere. Son trascorsi due fottuti anni. Non riesco a prender sonno. Mi son dimenticato di come si ride e già non posso sognare. "Clinc, clinc" durante la notte. Mi svegliano per perquisire. Troveranno i coltelli? Settecentocinquantuno giorni di carcere. Siete soddisfatti mie cari giudici? Porci. Settecentocinquantadue giorni di carcere, porci. Settecentocinquantatre porci. Dai, che uscirò. Dai, che uscirò. La mia cella misura 3 metri per 3. Dalla finestra del primo piano vedo il 20% del cielo al di sopra delle fottute mura del carcere. Cammino automaticamente nel cortile. Ho fatto chilometri in un cortile di pochi metri. Noia e di nuovo noia. Oggi ho vomitato la mia stessa anima. Ho vomitato sbarre, mura, isolamenti, anni di carcere, sentenze giudiziarie. Ho vomitato 3 anni di carcere. Non voglio contare più. Chiudo i miei occhi e penso. Penso ai miei compagni che son lontani da me, in altre carceri. Penso ai fuochi sui tetti delle carceri. Penso a tutto ciò che ha cercato di farmi dimenticare. Penso ad un sorriso, una carezza, una svolta che non finisce lì dove finisce il muro, uno sguardo che non sia prigioniero dietro le sbarre del fottuto carcere. Smetto di pensare. Apro la mano. Osservo la lima. Adesso so. So esattamente quel che devo fare. Dai, ancora una volta. Con più forza, stavolta. Fino alla fine. Viva l'Anarchia. "
(Frammento alterato del testo firmato "J. e V.")
VIVA LA COSPIRAZIONE DELLE CELLULE DI FUOCO-VIVA LA FEDERAZIONE ANARCHICA INFORMALE/FRONTE RIVOLUZIONARIO INTERNAZIONALE
PS. La presente proposta di edizione dell'opuscolo "Parole incendiarie internazionali solidali con CCF " sarà inviata per posta a tutti i compagni imprigionati in tutto il mondo. Per contrastare le possibili difficoltà (censura della corrispondenza), come la mancanza di informazioni su alcuni compagni prigionieri (mancata conoscenza dell'indirizzo postale), la nostra proposta sarà pubblicata su alcune pagine anarchiche in Internet. Quelli che sono interessati e che hanno la voglia di farlo, possono informare essi stessi i compagni prigionieri. Tutte le risposte, i testi, i commenti/critiche possono esser inviate alla casella postale:
Post Box 51076
T.K. 14510 Nea Kifissia
Athens
Greece
o alla e-mail:
sinomosiapf@ yahoo.gr
I membri prigionieri della CCF:
Argyrou Panagiotis
Nikolopoulos Mihalis
Nikolopoulos Giorgos
Tsakalos Gerasimos
Tsakalos Hristos
Polydoros Giorgos
Bolano Damianos
Hadzimihelakis Haris
Ikonomidou Olga
http://culmine.noblogs.org/2011/09/25/appello-internazionale-della-ccf-federazione-anarchica-informale/
Proposal from the Fire Cells Conspiracy
To all anarchist prisoners:
Prison is the country of prisoners. From here inside, we want to send greetings to our comrades imprisoned around the world, as well as set a proposal in motion.
In the country of prisoners, the days go by one after the other, slow and indifferent, while everywhere cement and an immense boredom prevail.
Nevertheless, our minds often escape and secretly visit our brothers and sisters imprisoned in Chile, Mexico, Italy, Germany, Switzerland, England, Russia, Denmark, and wherever else there are cells full of people who haven't lost the desire for freedom.
Comrades, we talk to you even though we don't speak the same language. We see you even though we've never met face-to-face. We smile at you even though we don't know one another.
The enemy believes it can break our morale by locking us up in its cells for months and years. Power thus expects to receive a declaration of remorse, a renunciation of direct action, a revision of our anarchist values.
But the only thing it will receive is our utter contempt and our most potent rage. All of us who have assumed responsibility for belonging to the first phase of the Fire Cells Conspiracy expect sentences of many years—condemnation by a system we have declared war on because we will not tolerate it governing our lives.
We want to transform the upcoming trial of the Fire Cells Conspiracy into a trial of the system.
By way of our discourse and our attitude, it won't be us defending ourselves in front of the judges, but they defending themselves in front of us for the crimes committed by the Power they serve.
At the same time, we want to draw attention to the fascist mechanism constructed to persecute us via the collaboration of the police, the judiciary, and the mass media.
A mechanism that launched an unprecedented antianarchist campaign whose goal was not just our arrest, but also the creation of a climate of widespread fear in which even the possession of previously published texts by anarchist prisoners could lead to a date with the prosecutor.
This was preceded by numerous detentions, the issuing of arrest warrants, the publication of photos of those of us who were at large, mass media screenplays about "connections between all the guerrilla organizations," reports about the "revolutionary fund" and our participation in bank robberies, "specialist" analyses of each of our "psychological profiles," and many other methodical schemes whose objective was to isolate us morally and marginalize anarchist urban guerrilla warfare.
The State wants to wipe the choice of anarchist direct action off the map of values held by subversive circles.
It wants to portray direct action as a futile decision that leads directly to prison, changing nothing.
However, when you choose direct action, you choose to take your life into your own hands.
Through direct action, we break away from stagnant thinking, we negate spineless movements, and we sabotage the clocks of discipline, creating free time and space within the hostile environment of the metropolis.
There, where surveillance cameras record our every move, uniformed police pigs memorize our faces, and the screens of the spectacle fabricate our desires, we once again don our masks. Our hands grab hold of stones, Molotovs, bombs, pistols, and we pour into the streets in search of freedom.
Now, even in prison, we don't ever forget that feeling, and we'll do exactly the same thing again the first chance we get.
We therefore don't want intellectuals, university professors, or any of the well-known hacks from leftist cliques defending us at our trial.
What do any of them know about the adventure of direct action and its values?
What can be said by those who spend all day firmly seated in their comfortable offices, chitchatting against the system from the vantage point of their leftist salon culture while that very system feeds them?
No, let them keep their "sensitivity" and the guilt they feel for having sold out to the Power that wants to portray us as "troubled, socially impressionable youths."
We're not looking for fake sympathy or support from the Left. Far from it. We seek accomplices to the same crime: the fight for anarchy and freedom.
There can be no more appropriate place for our search than the prisons that constitute an obligatory stop on the path of many anarchist comrades.
Therefore, comrades, we present you with a proposal/invitation.
In a few months the second Fire Cells Conspiracy trial will be held.
Even now we know that they will sentence us, and not for one minute will we take a step back, nor will we lower our heads or our voices in order to benefit from some "extenuating circumstance."
Therefore, there can be no better or stronger argument for our defense that your own voice, comrades. It's from your expressions of solidarity and the attacks carried out by anarchist direct action groups that we draw the courage to look our persecutors directly in the eye. Surely you've felt the same thing, imprisoned in other countries and paying the same price for our shared passion for freedom.
More specifically, what we're thinking about and proposing is to release, ahead of the trial, a pamphlet containing your international words of solidarity with the Fire Cells Conspiracy case.
At the same time, given that solidarity is a reciprocal concept to us, we'd like it if those of you who want to contribute something—thereby giving us strength and support—accompany it with an introductory text explaining your own case.
The pamphlet we want to release will thus include summaries of each of your cases, carrying your own experience of struggle to Greece and the other countries where the publication will be distributed, creating new opportunities to instigate hostilities with the system as part of international solidarity.
Together we will create an international experience of struggle that far exceeds our specific case, since we don't view the Fire Cells Conspiracy as the simple calling card of an organization. We view it as a way of being that describes and comprises the features and trajectory of the anarchist struggle we're all engaged in, another part of which is our time spent in prison.
This is an experience we want to share with all you comrades who find yourselves prisoners in the hands of the State, and it's simultaneously a proposal through which we can also be accomplices to your experiences.
It thus becomes possible to reach, within international anarchist circles, a level of unity and coordination that isn't vague, but essential.
Contact between comrade prisoners at an international level transforms solidarity into a revolutionary workshop, revealing the different perceptions that shape a joint anarchist action front.
The first contact between us will be capable of creating the preconditions that open up an international dialogue among prisoners as well as comrades on the other side of the prison walls—a dialogue in which each person's specific perceptions and analyses can be discussed, thereby promoting coordinated attacking actions against the State. Of course, this doesn't mean the fusion or the dismissal of different opinions
Additionally, such differences cannot and must not be obstacles to reciprocal support.
This is about trying to move from sympathy, which has developed among us through letters and shared textual references, to international coordination. It's about trying to become accomplices, together forming the Black International of anarchist prisoners and supporting—if so desired—our Italian comrades' proposal regarding the strengthening and broadening of the Informal Anarchist Federation/International Revolutionary Front.
The potentialities opened by this commitment are enormous, since it concerns a process of intensifying hostilities between revolutionary anarchists and the system.
It's worth imagining the strength gained by something that, for example, begins in Chilean prisons, crosses borders, and winds up in the cells of Greece. An international solidarity campaign can thus be initiated from prison, just like in the past when it was a matter of supporting comrade Gabriel Pombo da Silva.
At the same time, the formation of an autonomous network of communication among prisoners creates the appropriate preconditions for the existence of a permanent flow of information about what's going on in each prison, the conditions of imprisonment, upcoming trials, potential sentences, and ultimately the preparation of a counterattack plan by comrades outside prison.
For each sentenced comrade, for each disciplinary measure, for each prohibited letter or visit, for each vindictive transfer: no guard, no embassy, and no police officer should feel safe. When prisoners have the potential to communicate in their hands, there will be decisive comrades everywhere responding with action, sabotage, and fire.
We consider the proposal to release the International Words of Solidarity with the Fire Cells Conspiracy pamphlet to be the first step in that direction.
There will certainly be many more steps to come, but at some point one must simply begin.
In conclusion, we salute and stand beside—with our thoughts as well as our hearts—the Chilean comrades charged in the Bombings Case and also comrade Tamara, who is facing State persecution for sending a letter-bomb.
From the prisons of Greece we send anarchist smoke signals to Mónica Caballero, Andrea Urzúa, El Viejo Loco, and the rest of the comrades charged in the Bombings Case; Gabriel Pombo da Silva; Thomas Meyer-Falk; Marco Camenisch; Silvia, Billy, and Costa; Braulio Arturo; Walter Bond; Villarroel and Fuentevilla; Thomas Black and the English antifascists; the imprisoned Italian insurrectionists; the Russians and Belarusians; the Danes; and all those we've forgotten or whose names we simply don't know but want to know, because all of us have together chosen to sail against our epoch, using anarchy as our compass.
The following excerpt is dedicated to us all:
One day of prison. Two days of prison. Three days of prison. A month of prison.
The door closes and opens, then closes and opens again. Three months of prison. A year of prison. I need to know if others are thinking about me as much as I'm thinking about them. The days can't go by fast enough now. Four-hundred-eighty-two days of prison. Four-hundred-eighty-three days of prison. Four-hundred-eighty . . . I've lost count. Fuck. It's better that way. Counting is no good in prison. The arithmetic makes no sense whatsoever. Prison has its own smell. A smell that gets all over you and follows you around. I'll never manage to get it off me. Yesterday marked two calendars in prison. Two fucking years. I don't get any sleep. I've forgotten how to smile and now I can't dream. "Clink clink" in the night. They wake me up for a search. Maybe they'll find the shanks? Seven-hundred-fifty-one days of prison. Are you satisfied, my dear judges? Pigs. Seven-hundred-fifty-two days of prison, pigs. Seven-hundred-fifty-three pigs. Coming and going and off I go. Coming and going and off I go. My cell is three meters by three meters. From the second floor window I see 20% of the sky over the top of the fucking prison wall. I walk through the yard like an automaton. I walk kilometers in a yard measuring just a few meters. Boredom and boredom again. Today I vomited up my very soul. I vomited bars, walls, solitary confinements, years of prison, judicial sentences. I vomited three years of prison. I don't want to count anymore. I completely close my eyes and think. I think about my comrades, whom they're keeping far away from me in other prisons. I think about fires on the prison roofs. I think about everything prison has tried to make me forget. I think about a smile, a caress, a journey that doesn't end over there where the wall ends, a glance that isn't trapped behind the fucking prison bars. I stop thinking. I open my hand. I look at the metal file I have. Now I know. I know exactly what I have to do. Let's go then, once again. This time with feeling. Until the end. Long live Anarchy.
—An altered excerpt from the text signed by J. and V.
LONG LIVE THE FIRE CELLS CONSPIRACY. LONG LIVE THE INFORMAL ANARCHIST FEDERATION/INTERNATIONAL REVOLUTIONARY FRONT.
P.S. The current proposal to release the International Words of Solidarity with the Fire Cells Conspiracy pamphlet will be mailed to all our imprisoned comrades around the world. In order to counteract potential difficulties (censored correspondence), and due to the lack of information regarding certain comrade prisoners (unknown prison mailing addresses), our proposal will also be posted on anarchist Web sites. But what's crucially needed is that our comrade prisoners be informed. All responses, texts, comments, and critiques can be sent by e-mail to sinomosia_pf [at] yahoo [dot] com and by conventional mail to:
Post Box 51076
TK 14510 Nea Kifissia
Athens
Greece
—Imprisoned Fire Cells Conspiracy members: Panayiotis Argyrou, Michalis Nikolopoulos, Giorgos Nikolopoulos, Gerasimos Tsakalos, Christos Tsakalos, Giorgos Polydoras, Damiano Bolano, Haris Hatzimichelakis, Olga Economidou
Llamamiento internacional de CCF/ Federación Anarquista Informal
A los anarquistas presos
La cárcel es el país de prisioneros. Desde aquí dentro queremos mandar nuestros saludos a los compañeros encarcelados en todo el mundo y poner en marcha una propuesta.
En el país de prisioneros los días van empujando uno al otro lenta e indiferentemente, mientras que por todos lados prevalece el cimiento y un inmenso aburrimiento.
Sin embargo nuestras mentes frecuentemente se están fugando y a escondidas visitan a nuestros hermanos encarcelados en Chile, México, Italia, Alemania, Suiza, Inglaterra, Rusia, Dinamarca y donde más haya gente que están en celdas, pero no se habían olvidado el deseo por la libertad.
Compañeros, conversamos con vosotros aunque no hablamos el mismo idioma, nos miramos aunque nunca hemos visto uno al otro, sonriamos aunque no nos conocemos.
El enemigo se cree que puede romper nuestra moral cerrándonos, meses y años, en sus celdas. El Poder tiene esperanza que le llegará una declaración de arrepentimiento, una re-negación de acción directa, una revisión de nuestros valores anarquistas.
Pero lo único que van a recibir es el desprecio total y nuestra más fuerte rabia. Todos nosotros que hemos asumido la responsabilidad por pertenecer a CCF de la primera fase, esperamos unas sentencias de muchos años, condenados por un sistema a qué hemos declarado la guerra, porque no toleremos que gobierne sobre nuestras vidas.
El juicio que se va a montar contra la CCF lo queremos convertir en un juicio contra el sistema.
Tras nuestro discurso y nuestra postura no seremos nosotros quién va a abogar para sí frente a los jueces, sino serán ellos que lo harán, por los crímenes cometidos por el Poder a que sirven.
Al mismo tiempo queremos hacer destacar el mecanismo fascista que fue montado para perseguirnos con colaboración de servicios policiales, judiciales y periodísticos.
Un mecanismo que lanzó una sin precedentes campaña anti-anarquista, con el objetivo siendo no sólo nuestro arresto, sino también la creación de un clima de difusión del miedo, en que hasta la posesión de los, ya publicados, textos de anarquistas presos, puede llevar a uno delante del fiscal.
Habían precedido muchas detenciones, la emisión de ordenes de busca y captura, la publicación de fotografías de aquellos de nosotros que estaban huidos de la ley, los guiones periodísticos sobre "las conexiones entre todas las organizaciones guerrilleras", los reportajes sobre " caja revolucionaria" y sobre nuestra participación en atracos al bancos, las análisis del "perfil psicológico" de cada uno de nosotros hechas por "especialistas" y muchos más manejos metódicos que como objetivo tenían aislarnos moralmente y marginalizar la guerrilla urbana anarquista.
De esta manera el Estado quiere borrar la opción de la acción directa anarquista del mapa de valores de círculos subversivos.
Quiere presentar la acción directa como una decisión hecha en vano, una que te lleva directamente a la cárcel y no cambia nada.
Sin embargo, cuando uno decide de elegir la acción directa decide de tomar su vida en sus propios manos.
Tras la acción directa rompemos la inmovilidad del pensamiento, cancelamos movimientos pusilánimes y saboteamos a los relojes de la disciplina, creando tiempos y espacios libres dentro del ambiente hostil de la metrópoli.
Ahí, donde las cámaras registran nuestros movimientos, los uniformados cerdos policiales observan a nuestras miradas y las pantallas del espectáculo fabrican nuestros deseos, nosotros, una vez más, nos ponemos capuchas. Nuestros manos agarran piedras, molotovs, bombas, pistolas y nos vertemos por las calles en la búsqueda de la libertad.
Ahora, estando en la cárcel, nunca nos hemos olvidado de esa sensación y a la primera oportunidad haremos otra vez exactamente lo mismo.
Por esto no queremos que en nuestro juicio nos defenderá alguien de la conocida camarilla de círculos izquierdistas, intelectuales o profesores de universidad.
¿Qué saben todos esos sobre la aventura de acción directa y las valores que ella tiene?
¿Qué pueden decir los que todo su día pasan bien sentados en sus despachos cómodos, con su cultura izquierdista del salón que cotorrea en contra del sistema, en el momento en que ése sistema mismo los está alimentando?
No, que guarden lejos de nosotros su "sensibilidad" y sus sentimientos de culpa que sienten por haberse vendido al Poder que quiere presentarnos como "jóvenes con inquietudes y sensibilidad social".
No buscamos simpatías falsas ni apoyo de la Izquierda, al contrario: buscamos cómplices en el mismo crimen, él de lucha por la anarquía y la libertad.
No podría haber un lugar más fiable para esta búsqueda nuestra que las cárceles que en el recorrido de muchos compañeros anarquistas constituyen una parada obligatoria.
Por esto compañeros nos dirigimos a vosotros con una propuesta-invitación.
En unos pocos meses se realizará el segundo juicio de CCF.
Ya ahora sabemos que se nos condenará y ni por un minuto daremos un paso atrás, y tampoco bajaremos nuestra cabeza o nuestra voz para así beneficiarnos de alguna "circunstancia atenuante".
Por esto no puede haber un mejor y más fuerte discurso de defensa que la vuestra propia voz compañeros. Es de vuestras expresiones de solidaridad y tras ataques realizados por grupos anarquistas de acción directa, de dónde tomamos el valor al mirar directamente a los ojos de nuestros perseguidores. Es algo que seguramente también vosotros habéis sentido, encarcelados en otros países y pagando el mismo precio por nuestra pasión común por la libertad.
Más en concreto, lo que estamos pensando y proponemos es editar, a la vista del juicio, un folleto con su contenido siendo vuestras internacionales palabras solidarias con el caso de CCF.
Al mismo tiempo nos gustaría, puesto que para nosotros la solidaridad es un concepto reciproco, si los de vosotros que deseen de expresarla, así dándonos la fuerza y el apoyo, lo acompañarían con un texto introductorio que habla del caso de cada uno de vosotros.
De esta manera, tras el folleto que queremos editar, incluiremos también la presentación de los casos de cada uno de vosotros, así trayendo vuestra propia experiencia de lucha a Grecia y a todos otros países en que se distribuirá esa publicación. De este modo se crean nuevas oportunidades para instigar las hostilidades con el sistema como parte de solidaridad internacional.
Todos juntos construiremos una experiencia internacional de la lucha, que va más allá de nuestro caso en concreto, puesto que no percibimos la CCF como una simple firma de una organización, sino como un estado que describe y compone las características y el trayecto de lucha anarquista que llevamos a cabo, parte de cual es también nuestro paso por la cárcel.
Se trata de una experiencia que queremos compartir con todos vosotros, compañeros que se encuentran prisioneros en los manos del Estado, y al mismo tiempo se trata de una propuesta tras cual también nosotros podremos ser cómplices de vuestras experiencias.
Así se hace posible llegar, dentro de los internacionales círculos anarquistas, a un nivel de unidad y coordinación que no sea vago sino esencial.
El contacto entre compañeros presos al nivel internacional convierte la solidaridad en un taller revolucionario que da a conocer diferentes percepciones que configuran un conjunto frente de acción anarquista.
Ese primer conocimiento entre nosotros es capaz de crear pre-condiciones para que se abriese un dialogo internacional, tanto entre nosotros presos como también con y entre compañeros que están fuera de los muros carcelarios, un dialogo en que se van a debatir percepciones y análisis particulares de cada uno, así promulgando unas coordinadas acciones del ataque contra el Estado. Naturalmente sin que eso significaría la fusión o arrasamiento de diferentes opiniones.
Además, estas diferencias no pueden y no tienen porqué ser obstáculo en un reciproco apoyo.
Se trata del intento de pasar de la simpatía que, tras cartas y reciprocas referencias en los textos se había desarrollado entre nosotros, a la coordinación internacional. Se trata de hacernos cómplices montando juntos la Internacional Negra de anarquistas presos y apoyando, los que lo deseen, la propuesta de compañeros italianos sobre el refuerzo y ampliación de la Federación Anarquista Internacional/Frente Revolucionario Internacional.
Las potencialidades que abre esa apuesta son enormes, ya que se trata de un proceso de agudización de hostilidades entre anarquistas revolucionarios y el sistema.
Vale la pena imaginarnos la fuerza que está adquiriendo una movida si, por ejemplo, empieza en las cárceles chilenas, cruza las fronteras y llega hasta las celdas de Grecia. De este modo, desde las cárceles se puede llamar a una campaña internacional de solidaridad, como ya ocurrió en el pasado cuando se trataba de apoyo al compañero Gabriel Pombo da Silva.
Al mismo tiempo, la creación de una autónoma red de comunicación entre los presos, crea unas adecuadas pre-condiciones para la existencia de un permanente fluyo de información sobre lo que pasa en cada cárcel, las condiciones de encierro, los juicios que vienen, las sentencias que sean dictadas, y luego la preparación de un plan de contraataque por los compañeros que están fuera de la cárcel.
Por cada condena al compañero, por cada castigo disciplinario, por cada prohibición de correspondencia o de visitas, por cada traslado vengativo: ningún carcelero, ninguna embajada y ninguna policía debe que sentirse segura. Cuando la potencialidad de comunicación pase a los manos de presos, por todos lados habrá compañeros decididos de responder con su acción, con sabotaje y fuego.
La propuesta de editar el folleto " Palabras internacionales solidarias con CCF" la consideramos como un primer paso hacia esta dirección.
Seguramente habrá muchos pasos más que seguirán, simplemente de algún punto se tiene que empezar.
Acabando, saludamos y estamos a lado, tanto con nuestros pensamientos como corazones, de los compañeros en Chile acusados por el "caso bombas" y de la compañera Tamara que se enfrenta a la persecución del Estado por enviar un paquete-bomba.
De las cárceles de Grecia mandamos señales de fuego y anarquía a Monica Caballero, Andrea Urzua, Viejo Loco y los demás compañeros acusados en el "caso bombas", a Gabriel Pombo da Silva, a Thomas Meyer-Falk, a Marco Camenish, a Silvia, Billy y Costa, a Braulio y Arturo, a Walter Bond, a Villaroel y Fuentevilla, a Thomas Black y a los antifascistas ingleses, a los encarcelados insureccionalistas italianos, a los rusos y bielorusos, a los daneses y a todos quienes hemos olvidado o simplemente no sabemos sus nombres y los queremos conocer, porque todos juntos hemos elegido de andar en contra de nuestra época teniendo la anarquía por brújula.
A todos nosotros dedicamos el siguiente fragmento:
"Un día de cárcel. Dos días de cárcel. Tres días de cárcel. Un mes de cárcel.
La puerta se cierra y se abre, se cierra y se abre de nuevo. Tres meses de cárcel. Pasó un año de cárcel. Vete a saber si los otros están pensando sobre mi tanto como yo pienso sobre ellos. Hoy el día no corre para nada. Cuatrocientos ochenta dos días de cárcel. Cuatrocientos ochenta tres días de cárcel. Cuatrocientos ochenta…perdí las cuentas. Joder…mejor así, en la cárcel no está bien hacer cuentas. Los cálculos no tienen sentido ninguno. La cárcel tiene su propio olor. Un olor que se te echa encima y te sigue. Vamos, nunca lograré de sacármelo. Ayer acabé dos calendarios en la cárcel. Pasaron dos jodidos años. No me pilla el sueño. Me había olvidado reírme y ya no puedo soñar. "Clinc, clinc" por la noche. Me levantan para registrar. ¿Acaso encontrarán a los cuchillos? Setecientos cincuenta uno días de cárcel. ¿Sois satisfechos mis queridos jueces? Cerdos. Setecientos cincuenta dos días de cárcel, cerdos. Setecientos cincuenta tres cerdos. Venga va y me voy a salir. Venga va y me voy a salir. Mi celda tiene tres metros por tres metros. Desde la ventana de primera planta veo 20 % del cielo por encima del jodido muro de la cárcel. Camino automáticamente por el patio. Hice kilómetros en un patio de pocos metros. Aburrimiento y otra vez aburrimiento. Hoy había vomitado mi propia alma. Había vomitado rejas, muros, aislamientos, años de cárcel, sentencias judiciales. Había vomitado tres años de cárcel. No quiero contar más. Cierro mis ojos totalmente y pienso. Pienso sobre mis compañeros que les tienen lejos de mi, en otras cárceles. Pienso sobre los fuegos en los techos de cárceles. Pienso sobre todo lo que intentó de hacerme olvidar. Pienso sobre una risa, una caricia, una vuelta que no se termina ahí donde termina el muro, una mirada que no sea aprisionada detrás de las rejas de la jodida cárcel. Dejo de pensar. Abro mi mano. Miro la lima que tengo. Ahora sé. Sé exactamente que tengo que hacer. Vamos, una vez más. Con más fuerza ésta vez. Hasta el fin. Viva la Anarquía."
(Un alterado fragmento del texto firmado con "J. y V.")
VIVA LA CONSPIRACIÓN DE CÉLULAS DEL FUEGO-VIVA LA FEDERACIÓN ANARQUISTA INFORMAL/FRENTE REVOLUCIONARIO INTERNACIONAL
PS. La presente propuesta de edición de folleto "Palabras internacionales solidarias con CCF " será enviada por correo a todos los compañeros encarcelados en todo el mundo. Para contrarrestar a las posible dificultades (censura de correspondencia), como también debido a la falta de información respecto a algunos compañeros presos (desconocimiento de la dirección de correo de la cárcel) nuestra propuesta será colgada en las páginas anarquistas de Internet. Los que les interesa y tienen ganas, que informasen ellos mismos a los compañeros prisioneros. Todas las respuestas, textos y comentarios/críticas las pueden enviar al apartado de correos:
Post Box 51076
T.K. 14510 Nea Kifissia
Athens
Greece
y al mail:
sinomosia_pf@ yahoo.com
Los miembros encarcelados de CCF:
Argyrou Panagiotis
Nikolopoulos Mihalis
Nikolopoulos Giorgos
Tsakalos Gerasimos
Tsakalos Hristos
Polydoros Giorgos
Bolano Damianos
Hadzimihelakis Haris
Ikonomidou Olga
http://culmine.noblogs.org/2011/09/21/llamamiento-internacional-de-ccf-federacion-anarquista-informal/