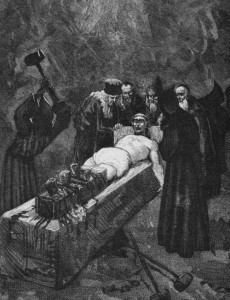 The parabola Ope Legis is the existential abode of those who redeem their lives in the ordinary-order of life.

The parabola stops and nullifies any existential movement that pretends the negation of the juridical 'law' and the right to man's moral rules.
This is in open conflict with social anarchists – who follow the path of the penal code any time the face of justice shows itself under the guise of a judge's robes.
The Fragmentation of life in relativism is the essence of the Nihilist – wandering exception in a continuous becoming of the Chaos that destroys the absolute and that permeates human society.
In the destruction of man's moral rules there is also the negation of the salvation through instruments aiming at a solely technical defence, which nullify all singularities.
Ahead with the nihilist attack and the destruction of any human-sentient rule:
A Nihilist attack against the body of the moral judicial monster…
http://325.nostate.net/?p=5749