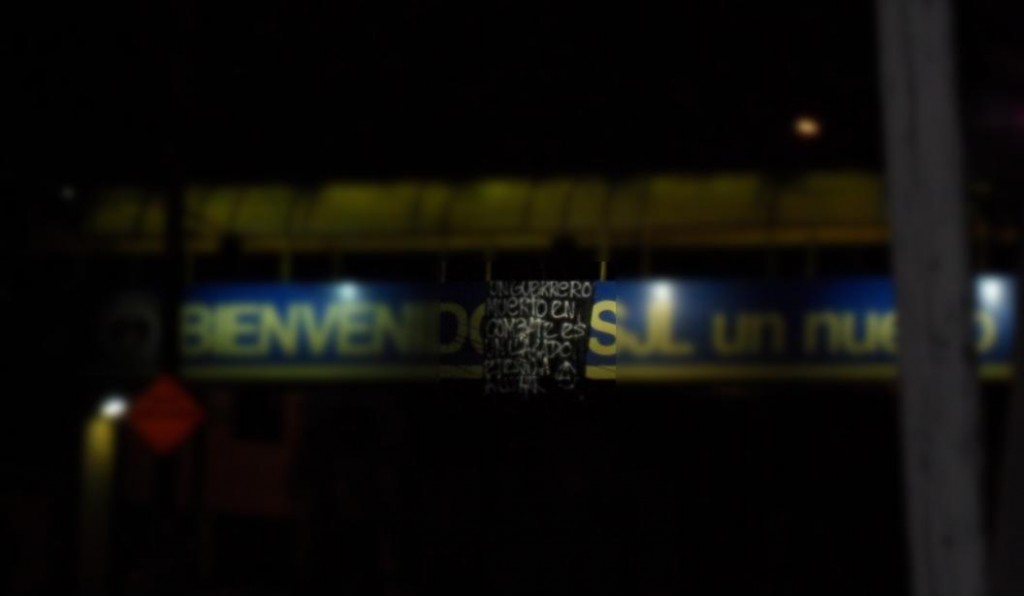 La bandera dice: "Un guerrero caído en combate en un llamado eterno a luchar"
the banner reads: "A warrior fallen in combat is an eternal call to fight"
…Y mi canto no es de llanto y mi canto no es de protesta que este canto que yo canto es un canto de pelea.
Que este canto callejero es un canto de lucha que se cante en esta tierra que mi canto es un canto de guerra".
Mauricio Morales.

Algo retrasadxs en el tiempo o para nosotrxs no hay fecha para recordar al Mauri y todxs los guerrerxs caídxs que se mantuvieron en rechazo y combate permanente con este sistema de explotación; y solidarizarnos con quienes al pasar a la ofensiva en acorde a sus convicciones, hoy se encuentran encarceladxs rehenes del poder.
La madrugada del domingo 11 aprovechando la complicidad de la noche y la espontaneidad nuestros actos. Manifestamos nuestro recuerdo con el compañero Mauricio Morales y nuestra solidaridad con el compañero Tortuga quien sigue resistiendo a la represión del estado $hileno y al espectáculo mediático que la prensa burguesa armó sobre él.
Utilizando la memoria como arma.
Multiplicando la propaganda antiautoritaria.
Reproduciendo los gestos de solidaridad con David Lamarte, Carla Verdugo, Iván Silva, Luciano Pitronello, lxs presxs del Caso Segurity, y todxs lxs presxs del mundo!
¡Libertad a los compañerxs secuestradxs en Bolivia!

La banderola dice: "Un guerrero caído en combate en un llamado eterno a luchar".
Frente Revolucionario Internacional-Federación Anarquista Informal/Célula de Acción Iconoclasta
En total rechazo con el condicionamiento de nuestras vidas
Peru: Visual propagada for Mauri, Tortuga and the prisoners
from vla, transl waronsociety:
"…And my song is not the song of mourning and my song is not the song of protest, this song that I sing is a song of combat;
And this song of the street is a song of struggle that is sung in this land, and this song is a song of war."
– Mauricio Morales.
Somewhat belatedly, or for us not since there is no date to remember Mauri and all the fallen warriors who kept themselves in the rejection and permanent combat with this system of exploitation; we act in solidarity with those who go on the offensive in accordance with their convictions, and today find themselves imprisoned, held hostage by power.
In the early hours of Sunday the 11th, taking advantage of the night's complicity and the spontaneity of our actions. We show our remembrance of the comrade Mauricio Morales and our solidarity with the comrade Tortuga who continues resisting the repression of the $hilean state and the media spectacle that the bourgeois press wielded against him.
Using memory as a weapon.
Multiplying anti-authoritarian propaganda.
Reproducing the gestures of solidarity with David Lamarte, Carla Verdugo, Ivan Silva, Luciano Pitronello, the prisoners of the Security Case, and all the prisoners of the world!
Freedom to the comrades taken hostage in Bolivia!
International Revolutionary Front – Informal Anarchist Federation /
Cell of Iconoclastic Action
In total rejection of the conditioning of our lives.