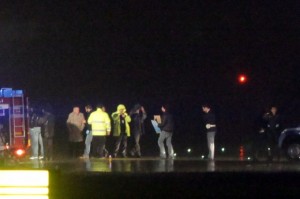 I pubblici ministeri Enrico Cieri e Manuela Cavallo della procura di Bologna hanno concluso le indagini preliminari contro 5 compagni della Cospirazione delle Cellule di Fuoco ed altri due compagni Il capo d'accusa è il 280, comma 3 del c.p.: "attentato con finalità terroristiche o di eversione". Nello specifico sono accusati di "aver disposto la spedizione dalla Grecia di un plico incendiario, contenente un ordigno di fattura artigianale, con sistema di attivazione a trappola e carica costituita da materiale esplodente riconducibile a polvere pirica, indirizzato a Silvio Berlusconi". Reato accertato nell'aeroporto di Bologna, in data 02.11.2010.
Nel merito i due compagni Panagiotis Argyrou e Christos Tslakalos sono considerati gli esecutori materiali del reato, mentre Giorgos Niklopoulos, Gerasimos Tsakalos, Haris Hadjimihelakis e gli altri due compagni vengono considerati partecipi dell'organizzazione "Cospirazione delle Cellule di Fuoco".
Solidarietà fraterna ai membri imprigionati della CCF in Grecia e indagati in Italia.
Per l'Internazionale Nera degli anarchici d'azione!
Culmine, 27 maggio 2012
* * * * *
CCF – End of preliminary investigation by Bologna's prosecution office
transl. ParoleArmate
The prosecutors Enrico Cieri and Manuela Cavallo of the Bologna's prosecution office ended preliminary investigation against 5 comrades of the Conspiracy of the Cells of Fire and other two comrades.
The charge is the article 280 of the italian criminal code: "attack with terrorist or eversion finality". Practically, they're accused of "having provided for the delivery from Greece of an incendiary envelope, containing an homemade device, with trap-activation system and charge consisting in explosive material attributable to gunpowder, addressed to Silvio Berlusconi". Crime verified in Bologna's airport, on the 02.11.12.
Specifically the comrades Panagiotis Argyrou and Christos Tsakalos, are considered the crime's perpetrators, meanwhile Giorgos Nikolopoulos, Gerasimos Tsakalos, Haris Hadjimihelakis and the other two comrades are considered involved into the organization "Conspiracy of the Cells of Fire".
Fraternal solidarity with the CCF imprisoned members in Greece and investigated in Italy.
For the Black International of the anarchists of praxis!
Culmine, 27 may 2012
* * * * *
CCF – Cierre de la investigación preliminar de los fiscales de Bologna
TRADUCIDO POR MATERIALANARQUISTA
Los fiscales Enrico Cieri y Manuela Cavallo de la fiscalía de Bolonia han terminado la investigación preliminar en contra de 5 compañeros de la Conspiración de las Células de Fuego y otros dos compañeros. La acusación es el párrafo 3 del artículo 280 del Código Penal Italiano: "atentados con fines terroristas y eversivos", " el haber organizado el envío desde Grecia de un paquete bomba, que contenía una bomba-hecha a mano, con sistema de activación para atrapar y carga que constaba de material explosivo y que fue dirigida para Silvio Berlusconi . " Delito tipificado en el aeropuerto de Bolonia, el 02.11.2010.
En concreto lxs compañerxs Panagiotis Argyrou y Tslakalos Christos son acusadxs de ser los autores del crimen, mientras que Niklopoulos Giorgos , Gerasimos Tsakalos , Hadjimihelakis Haris y lxs otrxs dos compañerxs son acusadxs de pertenecer a la organización " Células Conspiración del Fuego ".
Solidaridad fraterna con los miembros encarcelados de la CCF en Grecia e investigtados en Italia.
Por la Internacional Negra de los anarquistas de Praxis !
Culmine , 27 de mayo 2012
(it-en-es) CCF – Chiusura delle indagini preliminari dalla procura di Bologna